Hello Hello Hello
Published Tuesday, August 02, 2005 by Emma |
E-mail this post

---
Here are some pics of my lovely weekend just been. Dinner with my favourite employers, a trip to the Museum of Contemporary Art and then the Botanic Gardens.
The MCA pictures are a little strange. There were video installations playing on multiple silk screens, and as is my want, I thought I could take a few arty shots. I once drove a group of my friends mental in Melbourne by taking pictures in a cake shop in Acland Street, of the table, cups and saucers and mirrors. It's my thing.
Click on the picture to get the slide show.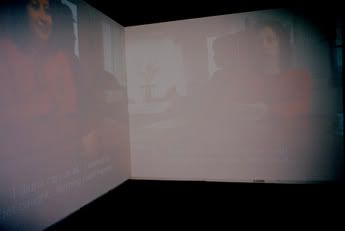 *************************
Last night: tragic, leather jacket student Christian handing out "surveys" before class and being

super

Christian-type freaky-recruiter friendly. The question "If you met Jesus Christ, what would you say to him."
Best answer, supplied by someone I would like to get to know better: "Did you fuck Mary Magdalene?"